This video describes how I ran my Search and Facebook campaigns.

Standing on the shoulders of giants.
These are the great companies that have placed signs and supported my campaign in Hollywood.

Downtown Businesses:
Hello Sushi
The Shade Post couture
Face Lounge
Hollywood Vine
Native Florida - got to keep rocking downtown!
Bistro 1902
SAS Lounge
Lyn Anthony Spa
Octopus Lounge
Dandee Donuts
Dynamic Taekwon-Do Academy

US-1 Businesses:
Jack's Diner
Animal Hospital Veterinarian
A1 Auto Sales
Martin Bloom Properties
Wintter Properties
Walsh's Pub
Miami Deli

Beach Businesses:
Hollywood Beach Trikke
Hollywood Events
Toucan Restaurant
Fulvio Sardelli
Nick's
Le Tub
Jake's on the Beach
Wings
Burger Bar
Organic Brewary
DP's
Broadwalk Cafe
Florio's of Little Italy
Dahan Food Market
Angelfish Inn
Oasis Restaurant
Burger Brothers
Sun & Fun Cycles

Plus these great local companies
Geometrix Engineering
PC Brad
Savvy Entertainment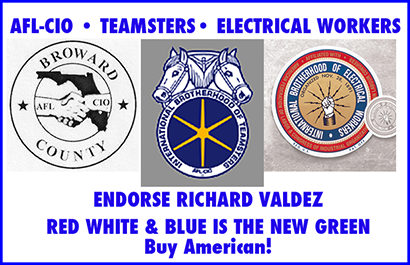 The AFL-CIO, the Teamsters & the International Brotherhood of Electrical Worksers Endorse Richard Valdez.
Property Taxes, Hollywood FL
Richard Valdez, Hollywood FL City Commissioner District 1 candidate discusses property taxes for Hollywood Florida.
Federal Highway in Hollywood Florida
Richard Valdez, Candidate for District 1, Hollywood FL discusses improvements to Federal Highway.
Labor Relations and Pension Reform
Richard Valdez, Candidate for Commissioner of Hollywood FL discusses labor relations and pension reform.
The Hollywood Margaritaville Project
Richard Valdez, Candidate for Hollywood Commissioner of District 1 discusses the plan to build Margaritaville on Hollywood Beach.
Pro-Technology in Hollywood
Richard Valdez, Candidate for Commissioner of Hollywood FL, District 1 discusses how being pro-technology helps in the governance of the city.
Hollywood Playhouse
Richard Valdez, candidate for Commissioner, District 1 for Hollywood Florida discusses the Hollywood Playhouse.
Introduction
"Hello, my name is Richard Valdez. I am excited to be running for Hollywood City Council, District 1.

My fiance and I are homeowners in Hollywood Lakes and live only a few blocks from Young Circle. We really enjoy the Lakes and Hollywood Beach areas."


We want to be safe in our neighborhood and on the beach!

More speeding tickets along the 13th Ave. Corridor.
More police patrols of District 1.
More beach patrols, especially at night.

Draconian cuts by City Hall have reduced available police. We need our police officers back!
WORK & LIVE in Hollywood

Over 140,000 people live in Hollywood. 70% of them leave the city every day to work. Let's work together to build jobs in the city so more of us can work where we live.



Code of Ordinance: Streamline for Growth


The number 1 complaint from business owners in District 1 is code enforcement issues. Let's encourage economic growth by clarifying meaning within the Code of Ordinance.

For Example:
124.05(G): Tables, chairs, umbrellas... Design, materials and colors shall be sympathetic and harmonious with the urban environment and complement the design and paint colors of the building.

If it can't be measured, it should not be in the Code. Everyone wants to be in compliance. Removing ambiguity ensures equality for all and reduces the burden of government from our local economy.


City Hall estimates Hollywood population will grow 5%, but SHRINK 7% in the number of working age adults. 12% more senior citizens. We are a city poised to be older, poorer, and in need of repair.

Lets work together to reverse the aging of Hollywood by establishing policies that are favorable to young businesses and home owners.
Pro-Technology
Pro-Labor
Anti-Tax




Pro-Labor


The starting salary for a Hollywood fire fighter is less than $13.00 per hour. Yet City Hall has frozen their wages. Our fire fighters now work 36 hour shifts because 24 of our best can't afford to work in Hollywood.

Some Hollywood police officers have not had a raise in 5 years. Yet their vision coverage has just been eliminated to save money. 20 police positions are frozen. No new police can be hired. As commissioner, I will unfreeze those positions.

ENDORSED BY THE AFL-CIO



Anti-Tax


City Hall has raised property taxes 23% in two years - from 6.04 mills to 7.45! We now pay the highest taxes in Broward County.



Pro-Technology


Hollywood - A hot incubator of start-ups!
Richard's mandate is to bring long-term stable employment by encouraging more technology companies to call Hollywood home.

Hollywood is perfect for the new wave of technology companies. Downtown Hollywood is a 10 minute drive from an international airport. A 10 minute bike ride to the beach. Lean start-ups of young technologists want a colorful downtown, a beautiful location, and fair rents from which to start the next Twitter.

Richard's goal is to visit and call upon technology companies large and small from coast to coast. Especially South Florida. It doesn't matter if those companies are thinking of relocating... Yet. Hollywood is targeting technology!

To spur the interest in Hollywood as a new technology center, I propose starting a new conference, Silicon Beach Hollywood. Locals would be invited for a three-day event. Silicon Beach Hollywood would benefit the tourist economy and the long term health of Hollywood.

Businesses will set up shop in low tax cities. Hollywood must stop raising taxes to pay for past financial hardships.
A vote for Richard Valdez is a vote for low taxes.
I support every small business on the beach by visiting the beach! My family and friends patronize the restaurants and businesses. My fiancé and I ride our bikes along the Broadwalk. I LOVE Hollywood Beach.

Support RICHARD VALDEZ for a better Hollywood Beach!
Place a sign.
Invest your time.
Make a donation!